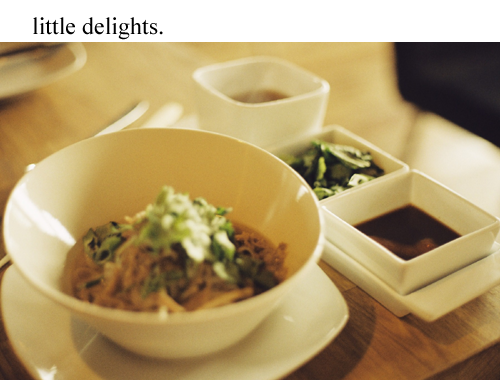 i've never had restaurant pho anywhere outside of an actual pho/thai joint. but the oxtail pho at
soundtable
was so good! who would have thought? we had the duck pho special ordered in the photograph above, but i'm a fan of the aforementioned. the serving is a small portion, but comes with a good amount of cilantro to make me happy. it also comes with a side of sriracha and soy sauce, so i don't get to do my fun five minutes of dressing up the pho. the glass noodles are probably the best i've ever had though. if i dance while i eat, its an indication that the food is really good. and so i did.
might i add this little slice of life- the sweet potato cheesecake from the
sweet auburn bread company
. oh my stars. i'm going for dinner tonight to treat my friend for her birthday. a piece of this is a the perfect excuse for my overdue revisit.