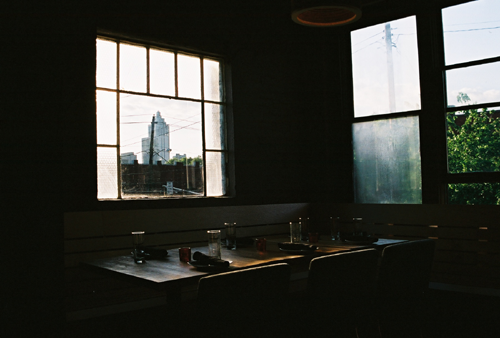 remember my
blog post
about restaurant, top flr? well i just added a new one to my growing list of favorites. this little slice of heaven just so happens to be owned by the same wonderful owner too. nestled in the old fourth ward on edgewood boulevard,
the sound table
is adorned in natural wood tables& benches with exposed brick walls. upstairs offers an array of international "street food" serving dinner monday through saturday. with shane devereux as the executive chef, servings on the
menu
are deliciously scattered with "plates, compartments, cocettes and bowls" like polish dumplings, belgian frites and szechuan fish fry (the vietnamese goi ga salad and peruvian ceviche being some of my personal favorites.)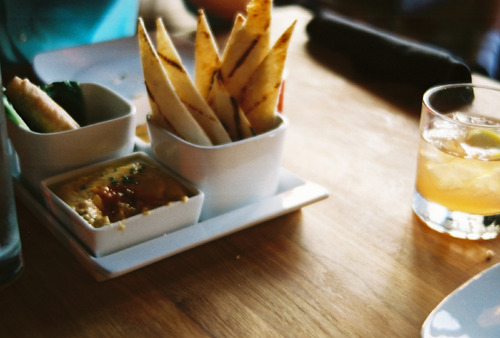 crispy pork spring rolls, garbanzo hummus & horses neck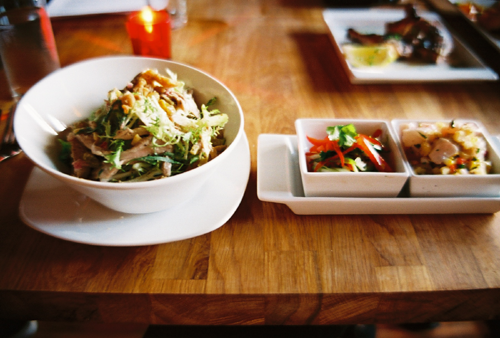 salad frisse with duck, peruvian ceviche& spatchcock grilled chicken in the background :)
thirsty? the sound table doubles with a lounge downstairs with the best mixologists creating
cocktails
like fourth & sand and the golden ticket. i've spent some late nights here while dj's like jamie from the xx, them jeans and sammy bananas spun tracks that had me dancing all night across the hardwood floors. this dinner club was easily coined my favorite new place in atlanta after my first visit. sound is definitely on the menu ;)
see you at dinner.