i got a hold of my father's photo album (
with no fuss or fight to get it either!
) and with much excitement, i get to
share
with you his photography now! i knew that it was a hobby of his, but my mother just told me today that he did it to make money while living in the refugee camp. i am ever so thankful that he held on to these for so many years. as sokai said.. it was wonderful that he overlooked the once-daunting times of the khmer rouge and pol pot regime, and embraced the beauty around him through photography.
there are also photos of my mother, a few were taken before she married my father. i'd like to think she was my father's muse in his photos because he loved to photograph her. she is a true beauty, and still is. i was glad to hear her take on each photo and to see the smile on her face when she looked through the photo album.
he even held on to the polaroid that the camp sent to their sponsors here in the united states. this photo is absolutely moving, and it touches me everytime i look at it.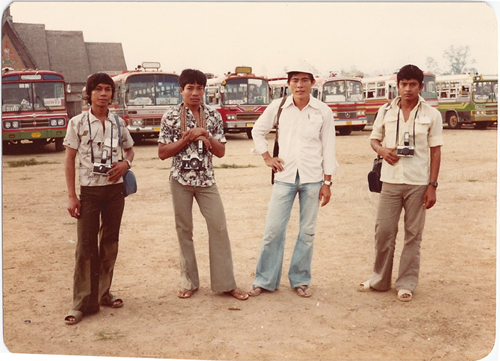 i hope that you enjoy this
set courtesy of my papa
, and that you find it just as inspirational as i did. the fact that i can look at these again with a fresher eye and different perspective, reminds me why i do what i do.
all thanks to two
very
beautiful, powerful people in my life.