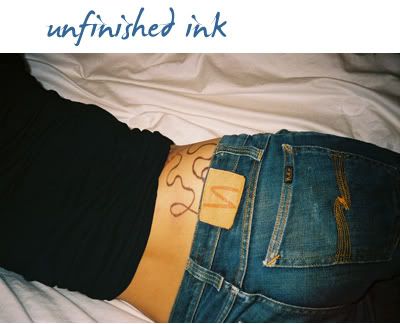 this is somewhat a view of my tattoo or at least the placement of it, lol. anyhow, the meaning behind it is just as complicated as every other story i tell. the tape reminds me of my childhood. i grew up listening to a lot of new wave, pop and 80s with my uncle. and i'm pretty much stuck in my ways. i destroyed almost all of his tapes, but not on purpose. just a bit too much rewinding and fast-forwarding. which brings the irony of my repetitive mistakes and growing up way too fast in real life. oh the irony..
its been over a year since i've gotten this done. i had a weird allergic reaction to the red ink and bruised from it. it was supposed to be just an outline, but i'm itching to get it filled in and to wrap some lyrics around the tape's ribbon. what lyrics you ask?
"
and all the simple things are simply too complicated for my life"