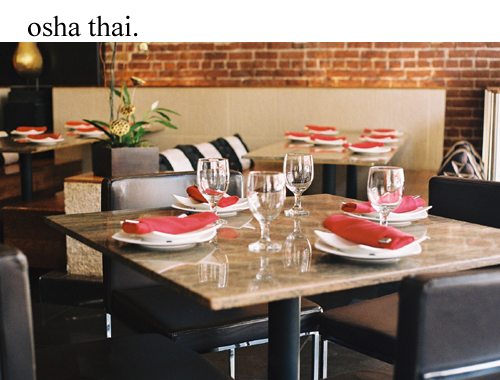 for every city that i visit, i have to eat thai food at least once. i'm pretty picky and critical about the cuisine. i've given some thought into creating a food blog specifically about my thai restaurant discoveries. i mentioned my ritual to friends and the first place they all recommended was
osha thai
. the
souksamlane sisters
opened their business in 1996 and needed a name for their restaurant. they chose the thai royal word for "
delicious.
" this year they've opened their seventh osha in the sf area,
lola
and i was chose the swanky location on
2nd
street for dinner.
i ordered the thai spicy pan fried noodles, just another fancy word for what we call "
mee ka thang
" in cambodia. the presentation was nice, but i had to ask for more sriracha because the cute little zigzag on my dish wasn't doing it for me. the food was great though, but i'm just more into the grimy spots. i was told that the
tenderloin
location was much better than this one so i'll have to give it another go on my next visit!