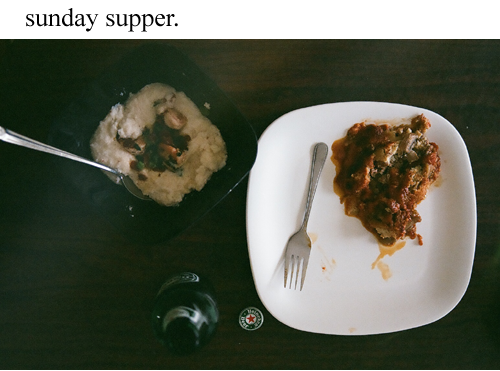 i miss cooking so much. i used to do it a lot when we lived in east atlanta, but since i've moved back home i haven't been doing it as much. mainly, because my mom has a meal made by the time i get home. but weekends shouldn't be excusable!
last week, i made my brother and my friend's supper for his birthday. i prepared shrimp and grits and eggplant lasagna. i found the recipe for flying biscuit's
creamy dreamy grits
and used that. if you haven't had their grits, you are
really
missing out! i also used a no-noodle lasagna approach, but added ground beef to it. almost forgot about the snicker doodle cookies. yum! the recipes i used can be found
here
and
here
.
have any really good recipes you'd like to share? i'm always up for something new. especially cultural food, thats always fun.
enjoy your sunday.