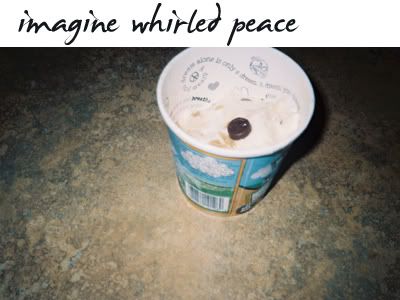 .. is a really yummy ben & jerry's confection. an odd treat for the winter, i know.. but nonetheless still delicious. try it and you won't be disappointed.
imagine whirled peace.. hmm.. imagine if a message couldn't be sent or received by the internet or the phone. and you had to send off a letter in hopes that the receiver would get it in a timely manner or get it for that matter. or you had to send a little birdy to find them, lol. i'm a bit old fashioned i know, i just like the element of surprise. you know.. a ring at the doorbell, or an unexpected run-in with a friend. did i mention that i'm doing without a phone for a while? it's quite nice.. you should try it.
i'm off of work for the entire week, which is good and bad. the good part? i'm recovering from my cold. i'm relaxing and doing things i don't normally get to do. the bad part? i'm sick and already missing my kids terribly. and i wont be getting paid to miss them either.